I was invited to take part in a datacenter building contest from Juniper Networks recently. I don't need to give you the full story behind myself and Legos. Let's just say I have loved them for a long time. Both of my kids have multiple sets. How could I refuse such a contest? The 5 year old boy that occupies a significant portion of my brain still wishes he could sit at home all day and play video games and build complex structures with Legos. Oh, and the best part is that whoever wins, gets a donation to their favorite charity courtesy of Juniper!
And so it was that I was eagerly anticipating my Lego package from my buddy Ashton at Juniper. As luck would have it, I was out of town last week toiling away for my employer the day the Lego set arrived. My wife texted me that the package had arrived. In the course of the week, I became rather ill. Maybe it was the cold north Texas air, or maybe it was breathing 10 year old dust from the ancient wireless access points I was replacing. In any event, I was laid up over the weekend trying to recover. As this week wore on, I began to see designs from my competition. They were all good designs and I was still trying to recover from my illness. I knew I would have to pull something together at the last minute due to pressing matters at work keeping me from abusing my work at home privilege.
This evening, with a design concept in hand, I summoned all of my Lego datacenter powers and merged them with the leftover palm residue enshrined on various business cards from Juniper employees. I'm only about 80% recovered from my illness, so I may have been a bit grumpy when the final plan came together. Not Ivan Pepelnjak grumpy, but still grumpy. 🙂
It is hard to make out any old palm residue, but I assure you it is there. I felt design powers flow through me like The Force!
Behold, the Leguniper datacenter!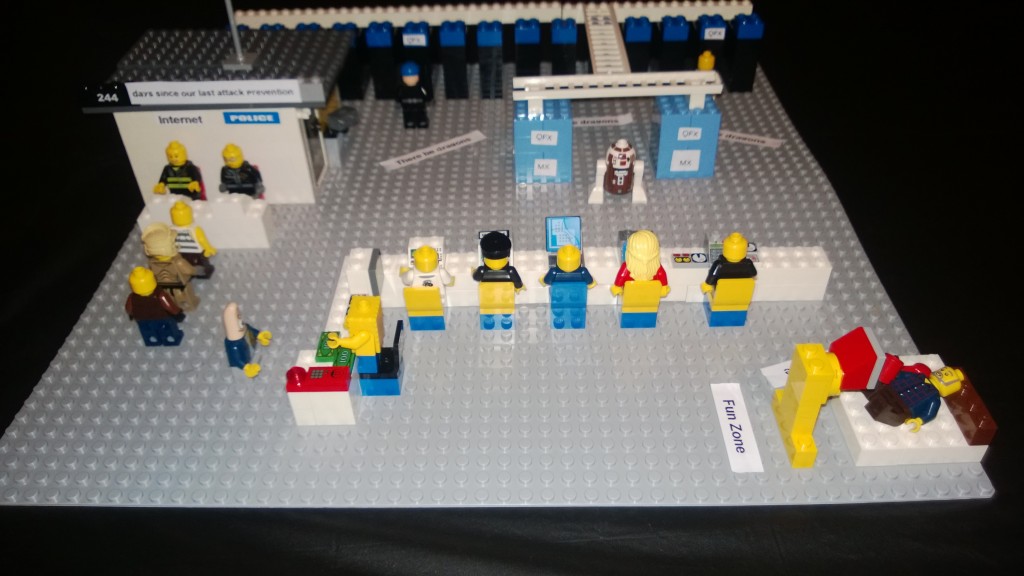 The first thing you notice is the dark void around the datacenter. This is not by accident. What appears to be void is simply the light being overshadowed by the Cloud. This IS a cloud datacenter, and in the interest of fully displaying the power of the Cloud, I thought it would be good to show you, dear reader, what the Cloud looks like. Nobody else has shown this before, so you are in for a treat!
The Cloud in all of its glory!
Not what you expected? Well, reality is often different than what we picture in our minds. You'll just have to take my word for it.
Touring the Leguniper Datacenter
First up, is the Security section. In this datacenter, security is a big deal. They ensure that nobody can do their job except for the external hackers. All of their equipment is kept behind locked doors, even within the datacenter, as they do not trust even the other employees. Notice the fierce determination in their eyes. They take their job seriously!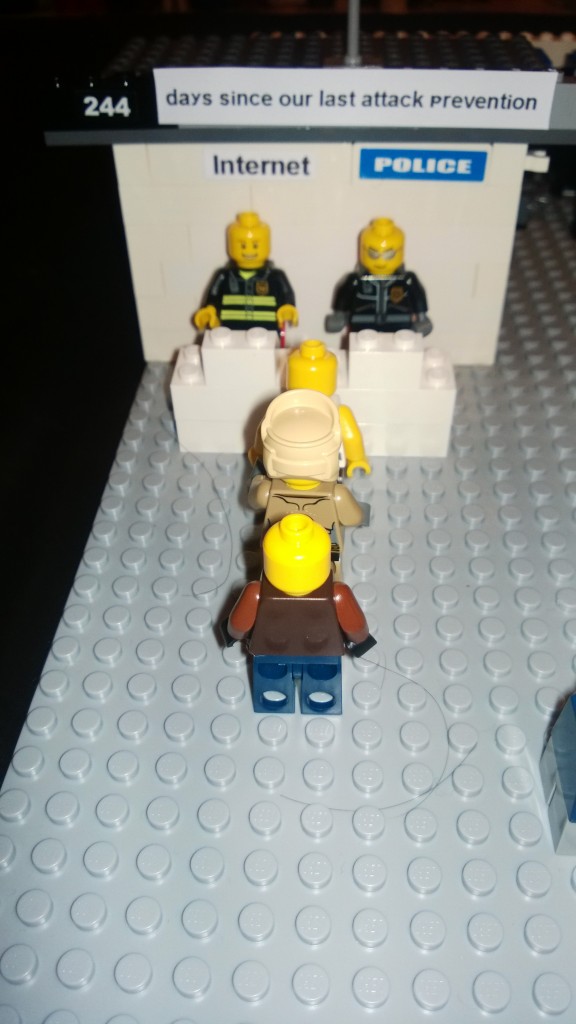 The long line of employees who have committed various infractions never ends. They must come and present themselves before the security department to explain their Internet abuse or why they cannot choose a 328 character password properly. All must come and all must apologize profusely. In fact, I was so terrified when I took their photos, that hairs from my head fell onto the datacenter floor out of sheer terror!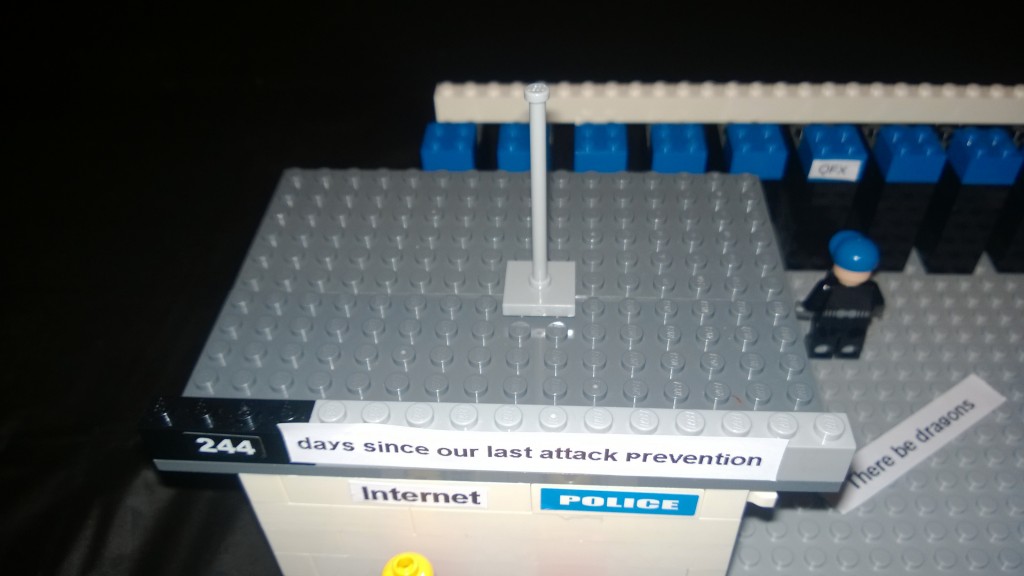 You aren't going to get anything by this datacenter security team. If you think you can bring in an unauthorized wireless device, think again! They have a state of the art omnidirectional antenna on top of their security suite that is always scanning for rogue clients and access points. You WILL be caught, and when you are caught, you will stand in line with everyone else and explain your infraction. You have been warned.
What's that? You want to see inside the security suite? Are you nuts? You are NOT authorized to do that! Well, since you are my guest, and I am the designer, perhaps I can make an exception. Hold on a second and let me see about getting that door opened.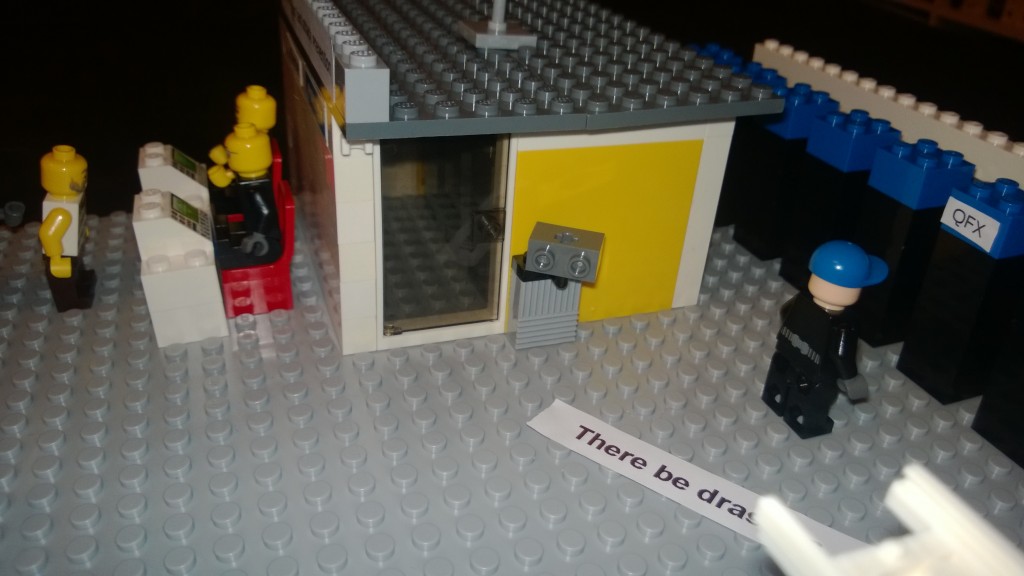 I forgot about the retinal scan device at the door! It keeps out all unauthorized people. Let me bribe one of the security guards with a chance at dating the blond haired lady working at the NOC desk and see if he will let me in.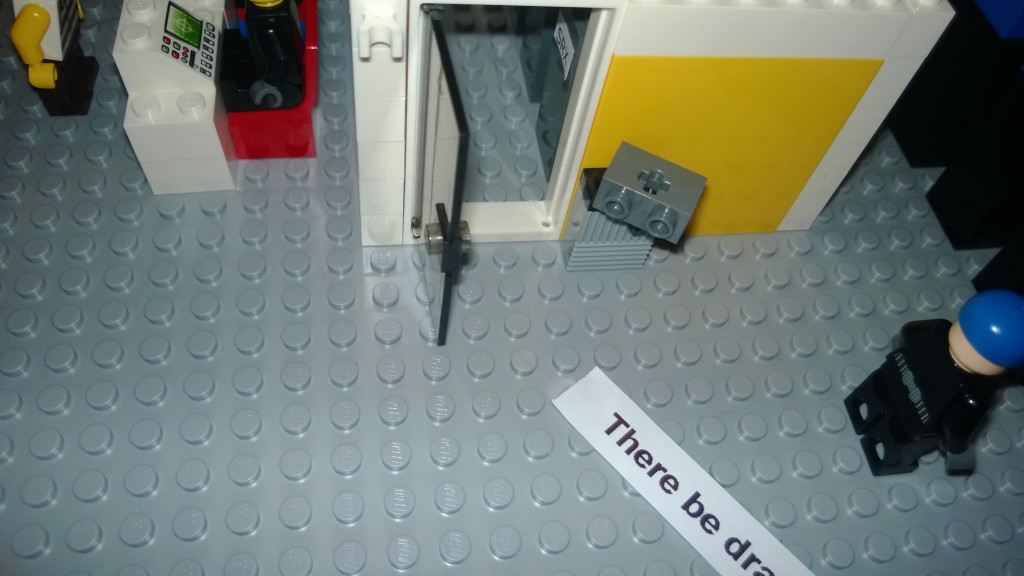 Success! Now that the door is opened, let's see what super secret stuff lies inside.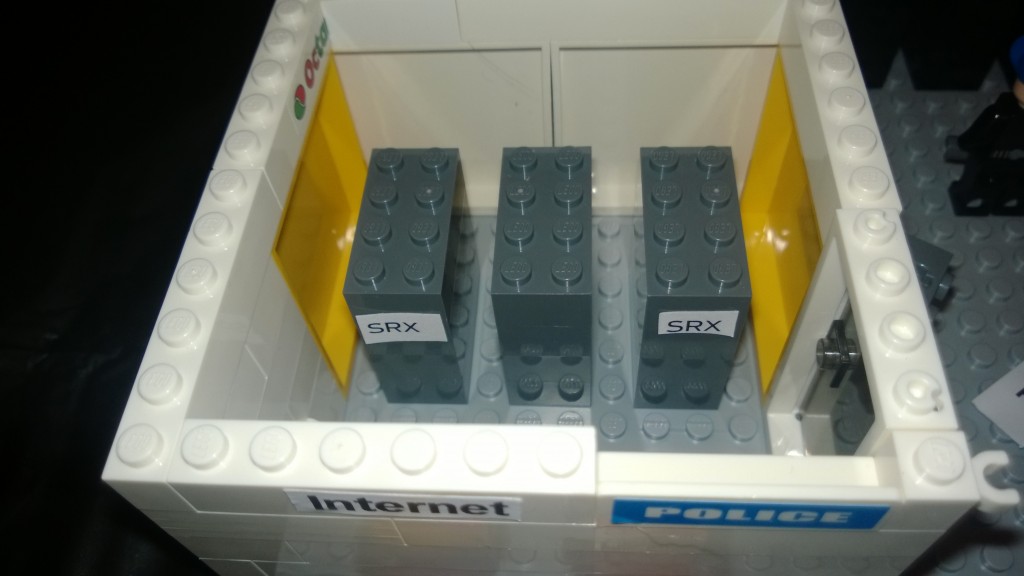 Looks like we have us a pair of Juniper SRX security devices. There are several other things in this room, but we aren't too interested in them since they are mainly a bunch of appliances from other vendors that compile logs that nobody reads. Let's get out of here before the security guard realizes I was lying about the date with the NOC lady. She's really only interested in dating network engineers.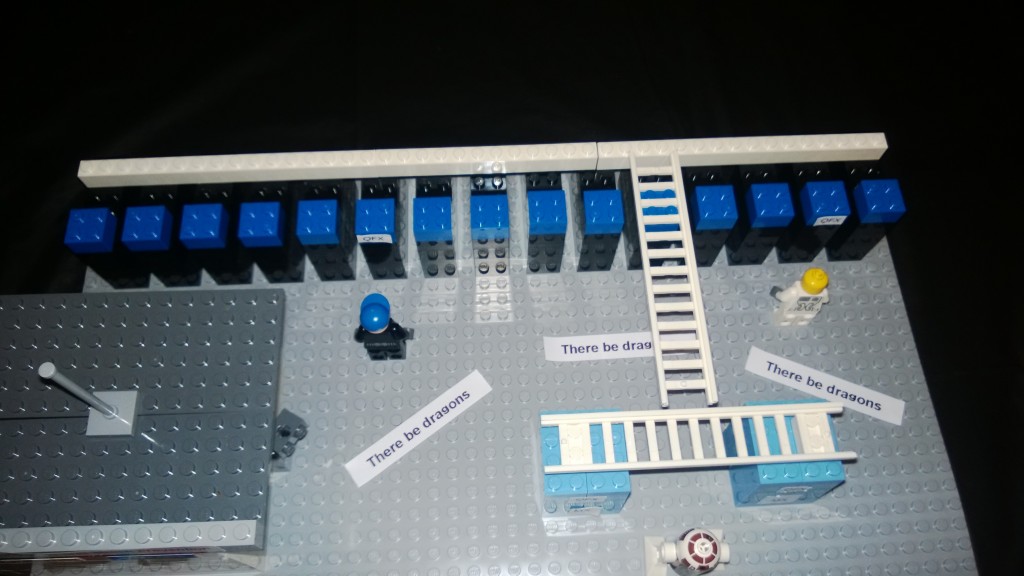 Here we can see all the racks containing the servers and storage. It is forbidden territory for us network folks. An unknown virtual void of gigantic databases, multi-tiered applications, and various trickery designed to make everyone think it is always a network problem. The demarcation line between the network gear and the servers and storage has been set by the warnings of dragons. Proceed further at your own risk. Occasionally, one must enter into that territory. You see, there are some QFX 3500 and 3600 top of rack QFabric nodes in every rack indicated by the blue bricks. We don't want to get caught up in the server and storage trickery, so we use a different color to know what is safe to touch.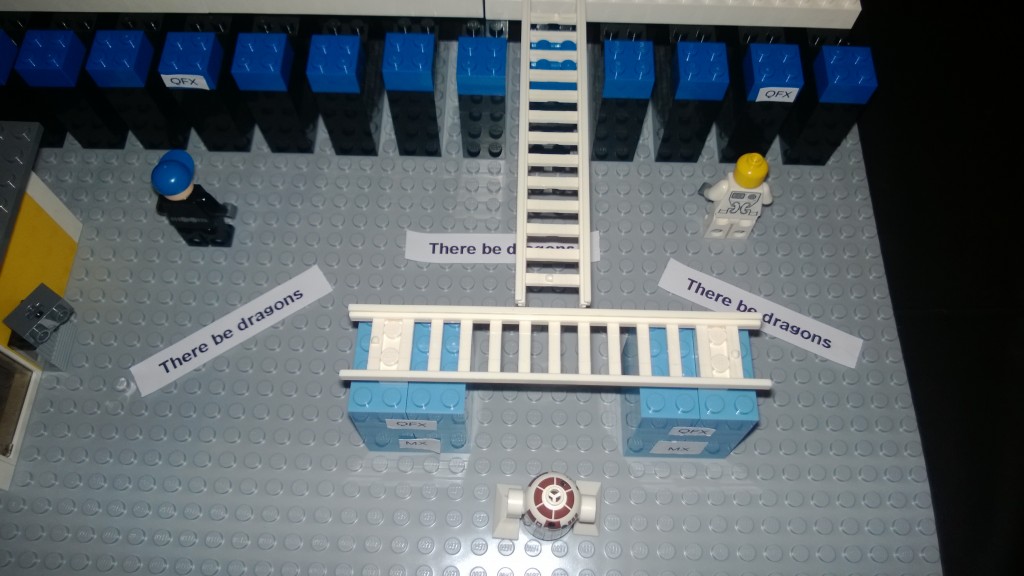 We zoom in a little closer and we can see all the fiber and copper coming from the servers and storage extending into the super cool network racks. It is suspended in the air above all of the racks via nice and tidy ladder trays. No more diving under the raised floor and plunging your arms into a cabling mess to find that one new drop that was run. No, no, no. Everything is fully populated and extended into the network hardware so that it is only touched during install and IF there is a failure, there are redundant connections so that nothing goes down. Well, the network doesn't go down. There's no telling what is going on over there in virtual land.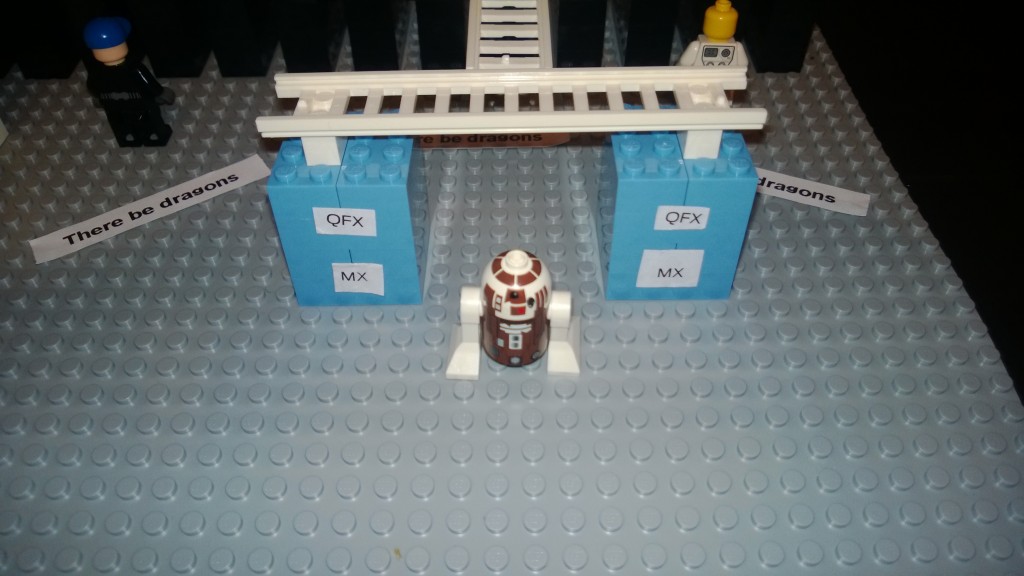 Now we come to the part of the tour you have all been waiting for. Get your cameras ready. This is going to be good! Here we have our QFabric Interconnects and Directors. Why did I design it this way? I didn't want to have to configure a bunch of top of rack switches independently. I figured I might as well make the datacenter one big logical switch. It gives me more free time to work on the stuff that really matters, like my video gaming skills. In addition to the QFabric piece, I also included some really nifty MX routers. From these, I am doing cool stuff like BGP peering. You know? Real protocols. Manly protocols. Oh, BGP is an application you say? Shut your mouth! I designed this datacenter. It is what I say it is! (I told you I was grumpy.)
If I actually need to physically touch any of this stuff, my droid takes care of it. I don't want this pristine equipment polluted by human hands. I need typing skills that rival Mavis Beacon. Your CCNA does not impress me and will not grant you access to this hardware. Might I suggest a Juniper certification to win my favor and a shot at replacing the droid once maintenance expires on it?
Let's go visit the network operations center(NOC) now.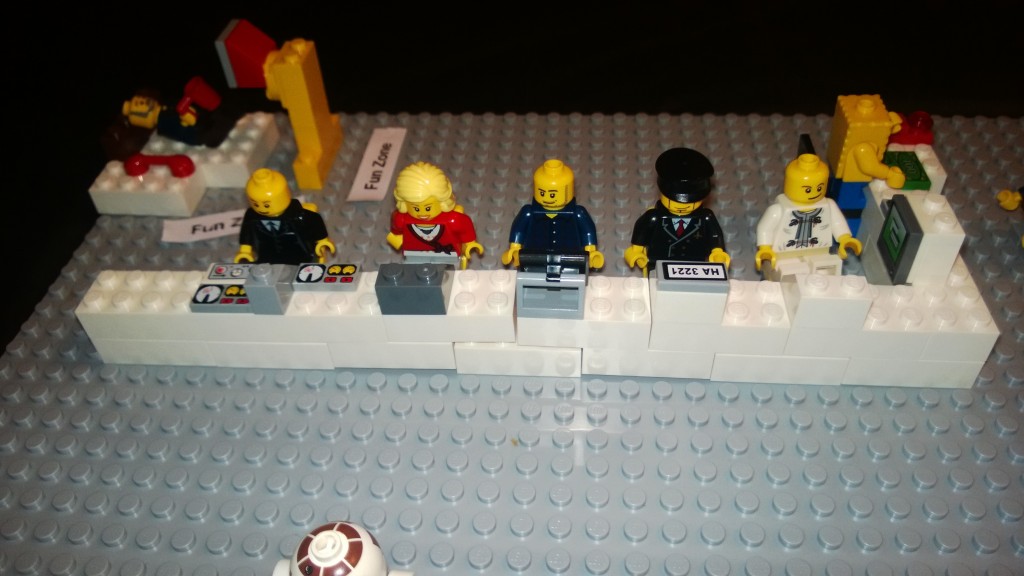 Here are all of our NOC technicians slaving away at maintaining all of this hardware. They are watching environmental systems, ensuring backups run, and constantly wrestling with application issues caused by imperfect code, written by imperfect humans, and executed by imperfect end users. It's cool though. They are all very nice and friendly. Sometimes their manager gets riled up and fires one of them for making a mistake, but……wait a sec. Let's make sure they are working since the manager appears to be berating an employee at the moment.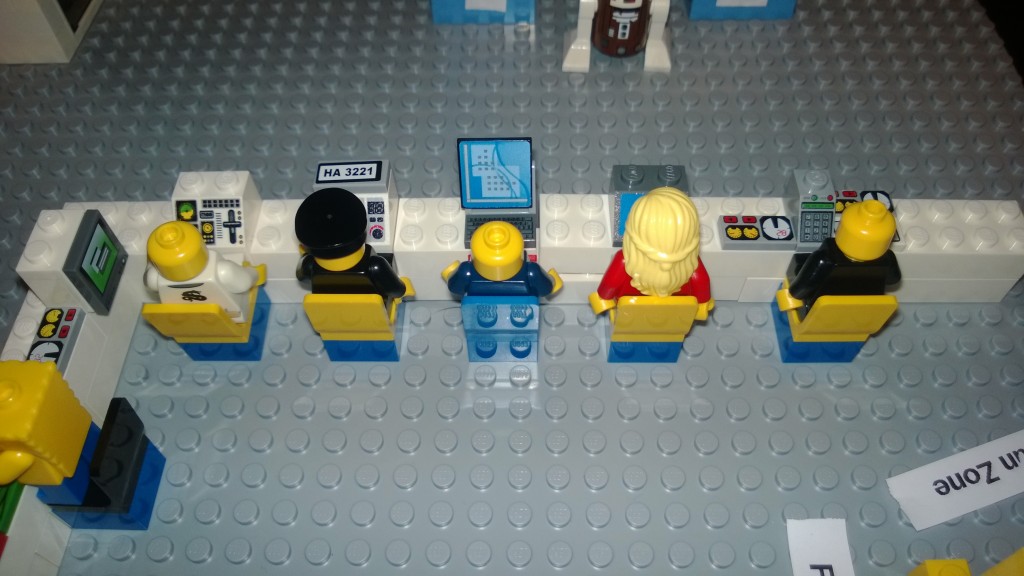 Looks good! Wait a sec. Does that guy with the hat on have his password sitting on top of his monitor? Uh oh. Don't tell security or his manager. I'll wait until the tour is over to go talk to him. That way he'll owe me a favor down the road. That manager is yelling pretty loud. Let's go see what has him all frustrated!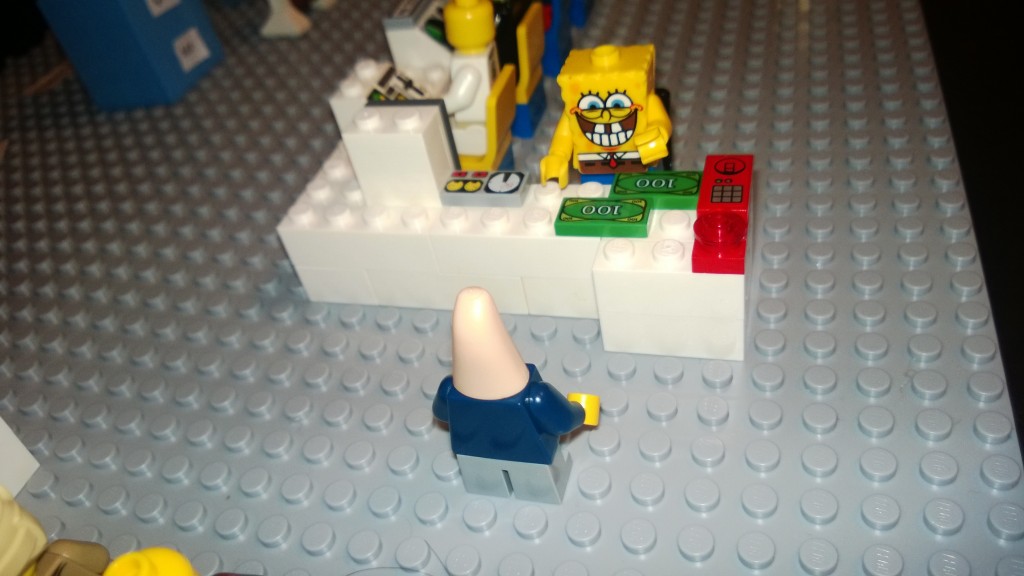 Oh. I see what happened. The manager was busy counting out his quarterly bonus and somebody interrupted him. They want him to pick up his red phone and call the network guy to do some troubleshooting. If there is one rule in the datacenter, it is that you do not interrupt the manager when he is counting his bonus. Who in the world interrupted him?
That guy? He's a DBA who kicked off an indexing job 5 minutes ago and wonders why his servers are running slow. This won't end well for him.
Well, that's about it for the tour. You are welcome to come hang out in the network engineering office. There isn't too much going on. We mainly just sit around and wait for the phone to ring. Since our datacenter is one big gigantic switch, not much happens in the way of changes. Still want to check out the office? Okay. Here you go. I'll just relax for a bit while you check things out.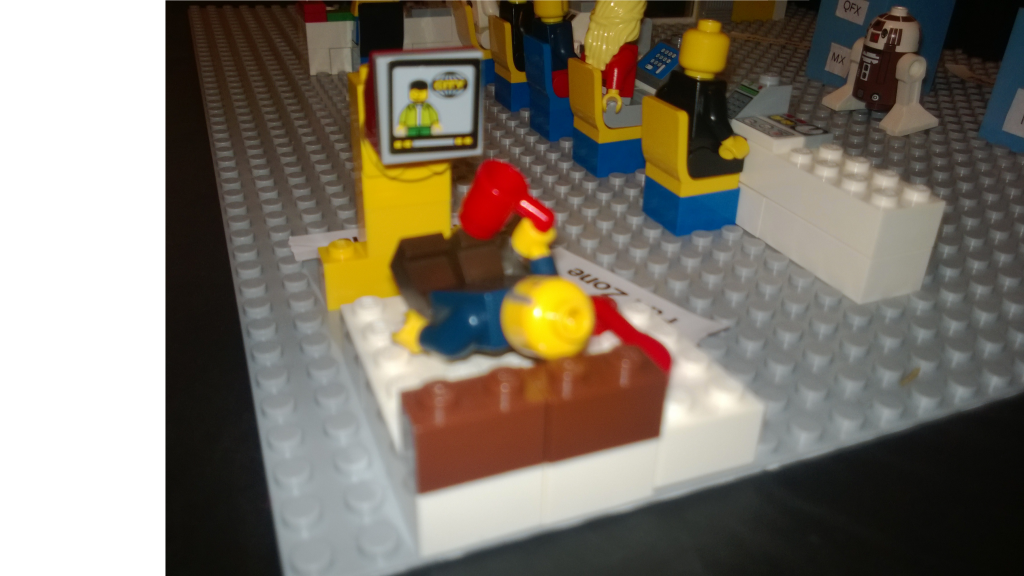 I'm just watching a little TV. Not much going on. Just drinking my coffee and lying down in my datacenter bed.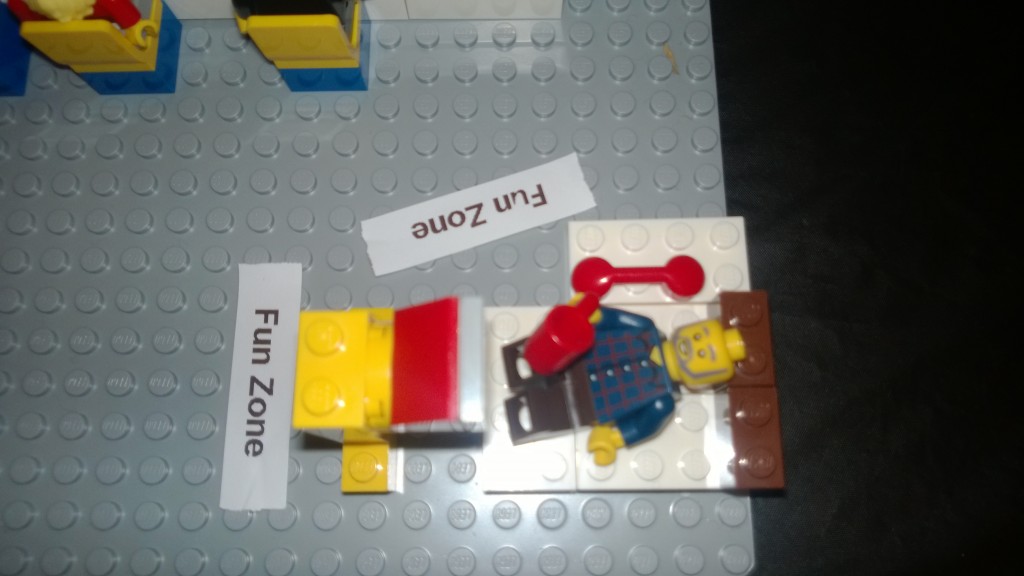 It is pretty comfortable here in the fun zone. I wait around for that red phone to ring. When it doesn't ring, I like to catch up on all the latest TV shows and take naps.
Hope you enjoyed the tour. You can show yourselves out.
That's A Wrap
This contest was pretty fun. Obviously this isn't a super serious datacenter design. That isn't to say that I wouldn't use any of this equipment. I would. I also may have been a bit harsh on the non-network sections of the datacenter, but it was all in good fun. If I was in the business of designing datacenters, I certainly wouldn't have that many people running around the building. However, you can bet that I would have racks and racks of servers, storage, security, and network gear. Thanks to Juniper Networks for the chance to participate in something out of the box like this! Good luck to all my competition. There were some pretty cool entries that I have seen so far. I'll link to the ones I am aware of below, in the order I came across them:
Stephen Foskett – Datacenter History: Through the Ages in Lego
Amy Arnold – You built a data center, out of a DeLorean?!
Ivan Pepelnjak – Lego Data Center
Tom Hollingsworth – Building A Lego Data Center Juniper Style
Robert Novak – Building the Best Lego Datacenter for Juniper