I just returned home from Walt Disney World. Let me just state up front that I love Walt Disney World. I may not necessarily like all the moving parts of the greater Disney corporation, but from a vacation perspective, there is no finer place to take one's family.
Was it expensive? Of course. Was it worth it? Absolutely. Let me tell you why.
Take a look at this picture: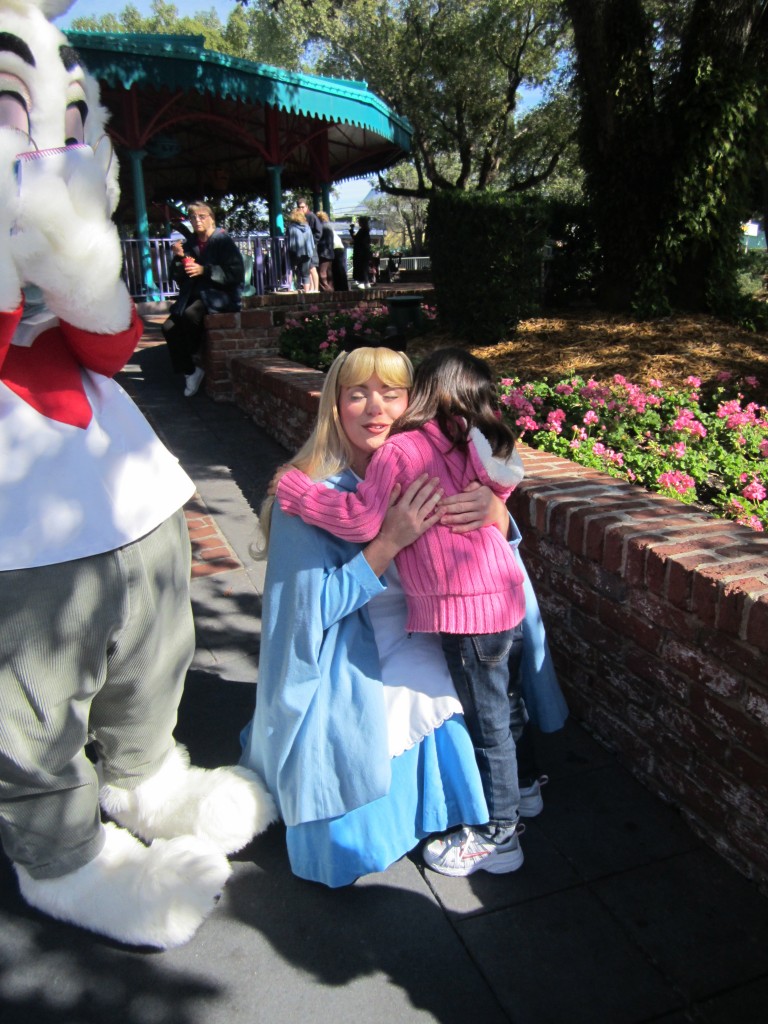 Yep. That's my little girl getting an autograph from the white rabbit and a hug from Alice. For those of you who aren't familiar with them, they are two of the more notable characters from "Alice in Wonderland". Notice the expression on "Alice's" face. Eyes closed. Warm smile. Arms embracing a little girl she's never even met. I should also point out that when she was speaking to my little girl, she never broke character. In fact, over 6 days in various Disney parks, none of the people playing various princesses and other roles EVER broke character. Believe me. I stood in plenty of lines. Endured several costly meals. Took plenty of pictures. I'd remember if one of them slipped up. 🙂 Ask yourself this. Is that a quality Disney employee in that picture? Could I pay a lot less at some other amusement park and get the same experience? Possibly, but more likely the answer is no.
Between the 11 of us that were there together, I have over 2000 pictures and videos culled from multiple smart phones and several hand-held cameras. That's from 6 days in Disney parks. Of all those photos, this one struck me as the most representative of the Disney experience.
I could go on and on and bore you to death with story after story about the Disney employees and the quality experience they provide. I think you get my point though, so I will stop with the sole example shown above.
The first day we walked into the Magic Kingdom, I told my 8yr old son: "You are about to see what true customer service looks like. Don't expect to see this many other places in the world." What I didn't tell him was how much money it took to experience that kind of customer service. 🙂
There are brands out there similar to Disney and not very many of them are inexpensive. Do any come to mind?
Here are some brands that I have used and I prefer from a quality product/experience(Feel free to disagree, but remember that sometimes the experience plays a large role in addition to the product.):
Chick-Fil-A
Starbucks
Apple
Nike
Barnes and Noble
Philips
Mellow Mushroom Pizza
Lego
SouthWest Airlines
Hilton
Craftsman Tools
LL Bean
Dockers
Publix
Cadbury
Ikea
USAA
There's a reason I like each of the brands mentioned above. There are also reasons I don't particularly care for their competitors or just happen to be indifferent towards them. I have no problems spending money on any company's products listed above. That doesn't mean I like all of their products. You just won't have to twist my arm as much as you would for a competitor's product.
Finally. Something Technical…..Sort Of.
Here's the part you care about….I hope. Think about IT companies out there. Any particular brands you love? I bet there are far more that you don't love. Why don't you love them? Why don't you care about all the advertisements, marketing e-mails, webcast invites, etc?
For me, it is because those companies or products don't give me a reason to care about them. There is no differentiation from everyone else. There is nothing special about them. Their marketing stinks. Their ability to execute stinks. All they can do is jump up and down like a spoiled little child demanding that you notice them, but when you do take time to notice them, there is absolutely nothing remarkable about them. Not a thing.
Whenever I get a chance to talk to a vendor, I always like to mention a competitor or two of theirs and then ask what makes them different. In my personal experience, the good companies will tell you straight up what makes them different. The bad ones will typically respond with: "You can't really compare us to company XYZ because of blah, blah, blah." They then proceed to trash their competition without ever really answering why they are different.
Maybe it just comes down to hiring good people. People that are "evangelistic" in their love of the company product will yield far greater results than people just trying to sell one more widget to make a quota. Can't find any people like that?
Here's a few tips:
Pay your people more. – This means you charge more for your product. I get that. Build quality and people will pay more. Problem solved. Profit margins will still be intact.
Develop your people. – I realize that goes against the modern corporate mantra, but if you actually treat people like humans instead of a number, they might surprise you. There are people who will actually go the extra mile for you if they know you are investing in them and their long-term career prospects. I'm not really referring to the executive that you send to MBA school or wherever else they go to learn the latest ways to inflate the stock price. I'm talking about the people that work underneath those executives. The ones that have to park their cars far away from the building.
Hire weirdos. – Normal people should only be found in the accounting department. Every other department should be full of weirdos. Not social deviants. Weirdos. There's a difference. If your employees WANT to come to work each day just to observe the freak show, you are doing it right. Bonus points if they don't figure out that they ARE the freak show.
Keep in mind that number 3 only applies to IT companies. Weirdos don't fare well in sectors like banking, healthcare, and transportation.
Closing Thoughts
Somewhere in this disjointed post I had a point. I believe it was simply that I don't love a lot of IT companies or their products because they just don't give me a reason to. I'd love to hear your reasons for why you do love certain products or vendors.