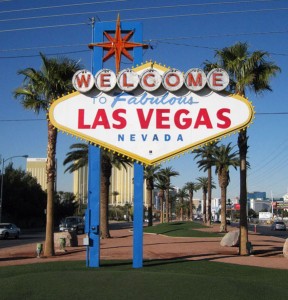 I'm returning to Las Vegas for Interop. I was fortunate enough to attend last year on behalf of HP and Ivy Worldwide. I am returning again as a guest of HP and Ivy Worldwide. I should point out that HP has never asked me for anything other than an opinion. They sent me to the Las Vegas and New York Interop shows last year, but the New York show is much smaller than the Las Vegas one.
A stark difference in my Interop Las Vegas experience last year and my Interop experience this year is my relationship to these vendors. Last July, I left my corporate IT job and went to work for a reseller. I LOVE talking to vendors, and being in the reseller space allows me a different kind of relationship with vendors. It is more of a collaborative type relationship and less of a buyer/seller relationship that you see in the corporate IT side.
For the bulk of the conference, I will be on the expo floor. That's the place I want to be as much as possible. While the pens and t-shirts are very plentiful, I am not really there for that. However, if they are giving away electronics in a LEGITIMATE drawing, I will not turn that down. I just have to figure out which ones are legitimate and which ones are steered towards potential customers(ie rigged drawings). I'm there to absorb as much of the vendor's solutions and company secrets as possible. Okay, so I don't get a whole lot of company secrets, but I keep hoping someone in a vendor booth will slip up and tell me something they shouldn't. 😉
Here's some random thoughts around some of the vendors I want to talk to. I'll indicate if my company is a partner with them as we partner with a lot of companies.
Aerohive (Partner) – They don't have a booth, but they are here. Their Bonjour gateway seems to have attracted a fair amount of attention and they just released the BR200 device for remote offices/mobile employees. I'm curious to see what might be coming from them in the near future.
Alcatel-Lucent – I don't ever run into them in the enterprise space. I am curious as to how they are doing in that market. If I recall correctly, they tried to sell their enterprise line and focus on the SP market, but that fell through. They re-brand their wireless from Aruba, so I probably am not going to ask much about that.
Arista – I love this company. They do one thing and do it well. I am curious to see if they have any announcements around 40 and 100gig. I know they will be supporting it, but not sure to what extent and when. Listening to various Arista people talk during the Getstalt IT Network Field Day 3, I get the feeling they will continue to innovate and dominate the low latency switching market.
Avaya – I had a nice long chat with one of their engineers at their booth at last year's show in Las Vegas. I am interested to see how well their switching line is doing. They also have a wireless line that I didn't get to look at last year. That intrigues me. Finally, they came out with their own UC tablet like the Cisco Cius. I am sure they will have their Flare tablet on display.
Barracuda Networks (Partner) – As a Barracuda partner, I have a different view of them now. I heard a presentation on their Next Gen firewall last year, but the presentation didn't sell the features of the NG firewall that I was able to see during my partner dealings with Barracuda. It really is a neat firewall that came via an acquisition and was not developed in house. I think that is where people have an issue. They think it is a feature-lite firewall like some of their other products when compared to their much more expensive competitors. They also dabble in the UC and video surveillance market. Odd considering they got their start doing anti-spam work. They also have a storage replication product that I am interested in seeing demonstrated.
BlueCoat (Partner) – I really just want to see if/when full combination of content filtering/WAN optimization will happen. Maybe it shouldn't happen. Maybe it should. I used Packeteer products in a previous job and liked them.  Most of my questions to BlueCoat are really around differentiating themselves from Riverbed.
Brocade (Partner) – It turns out that Brocade does not have a booth on the expo floor, but they will be sharing part of the NEC booth. We are doing a fair amount with Brocade, so I am just interested in a general conversation with them. I've put forth my theory that they will buy a firewall vendor in the coming years if they don't get acquired and taken private. I've discussed this with multiple Brocade employees, but that's just complete speculation on my part and cannot be validated by anyone I have talked to. I also wonder about their relationship with Motorola since they re-brand their wireless gear. Would Brocade ever buy that part of Motorola? At the risk of sounding too "conspiracy theory", I will end my comments on Brocade here. 😉
Cisco (Partner) – I have tons of questions for Cisco. I want to see the 3600 AP up close and personal. I would also like to know if they have the module that is rumored to be coming. I've heard about it on the No Strings Attached podcast and pictures of the AP indicate that future capability. As a partner, I might know a little more than I am letting on, but that wouldn't be very professional if I blabbed about every little thing now would it? 😉 There are some other wireless things I would like to chat about. Some of the other things I would like to see and talk about are WAAS, Nexus 3000 series, ASA CX, UC ver 9 enhancements, ACE 30 update and potential for a Nexus 7000 module.
Citrix (Partner) – My company has someone covering the Citrix Summit / Citrix Synergy conference in San Francisco, and that person is far more versed in Citrix than I am. My interest in Citrix begins and ends with the NetScaler as it relates to load balancing and SSL VPN connectivity.
Dell (Partner) – Obviously, the big thing for me with Dell is the Force10 gear. I'm interested to see how they are rolling the Force10 gear into their lineup and what that means for the other vendors(ie Brocade) that they re-branded. I'd also like to talk to them about Aruba wireless that they re-brand as PowerConnect W-Series. I wonder if Dell would consider buying Aruba. They seem to be buying everyone else lately. SonicWall will have a booth at Interop as well, so naturally I am interested to see how that integration with Dell is going.
ExtraHop Networks (Partner) – What's not to like about this NPM/APM vendor started by ex-F5 people? They are entirely agentless and can be up and running in a matter of minutes. They also just released a new Citrix module, so I would like to talk with them about that. Other solutions require software agents for the type of information they are pulling off the network with a simple packet capture.
Extreme Networks – I remember last year's Las Vegas show where they showed the Black Diamond X8 switch in a smoke filled booth. 192 ports of 40GbE at line rate. A monster switch. I am curious how they are selling and who is using that kind of  throughput.
Ekahau – They will be located with the MetaGeek booth on the expo floor. I had the privilege of seeing this Finnish company present at the last Gestalt IT Wireless Field Day event back in January. I've been using their Site Survey tool lately, and have also been able to use their Android-based Mobile Survey utility.
F5 Networks (Partner) – I haven't seen the Viprion line in person yet. I am hoping they have some at their booth. They are always good to talk to since they seem to be expanding beyond the load-balancing function they are so well known for.
Gigamon – This orange colored company is hard to miss. I have talked to them before, but I am interested about what life would be like as a Gigamon partner. With all the monitoring that is required in data centers these days, their name comes up more and more in discussions amongst other engineers.
HP (Partner) – Since HP is bringing me to Interop, I get a fair amount of access to their people. I have several questions around their firewall solutions, the collapse of switching lines on the ProCurve side, as well as the future of their voice platform they inherited from 3Com. Then, there's the wireless solution, which I assume will be simplified in the coming years just like their switching lines. I also want to see how their publishing venture has been received. Finally, I would like to see if there are going to be any changes to the AllianceOne program, which I happen to think is a good idea for them.
Huawei – I talked to this newcomer to the US market at Interop NYC last October. They have a full line of everything from switches to telepresence video conferencing suites. I am interested to see how their growth in the US market is going.
Juniper Networks (Partner) – Of course, QFabric will be on display. It's hard to miss that impressive hardware. I'll take better pictures this year than last. I'm also keen on seeing anything new they have coming up. I believe a fair amount of their focus has been on the security market lately.
MetaGeek – I have had the pleasure of seeing MetaGeek at the Gestalt IT Wireless Field Days for two years in a row. Their new EyePA product is simply amazing and I look forward to seeing the looks on people's faces when they see it demonstrated for them.
NEC – I need someone to sell me on OpenFlow in the Enterprise. I see the applications for it in the SP market. I just don't see it in the Enterprise. If anyone can show me where it fits, it will probably be NEC.
ShoreTel – I am not a voice person, but I do like to have a basic understanding of who the key players are. I am always looking for a solution that could possibly rival Cisco and Avaya as they seem to dominate the voice deployments I come across in enterprise networks. I spoke with ShoreTel last year and have seen them around for a number of years.
SonicWALL (Partner – Sort of.) – Dell recently acquired SonicWALL, so I would expect to see a lot more of them in the near future. As a Dell partner, my interest is really centered around how to position them in the enterprise space. I used to work for a SonicWALL partner and we sold quite a few of their boxes in the SMB arena. Although my SonicWALL cert is long expired, I am curious to see how much progress they have made since I dealt with them last.
Vyatta – This company has been around for a number of years running routing software on commodity hardware. I have never used their software and have not come across many companies that do. Having said that, I do know there are a fair amount of people that are big fans of Vyatta. I'd be interested to find out from them about large real world deployments.
Xirrus – There's really one big question I have for Xirrus, and it has to do with 802.11n MIMO. They have directional antennas in their arrays, so I want to understand how they can associate multiple antennas with a single client. I have no doubt they have thought about this, so I am sure they can answer that question.
There's a lot more vendors at Interop. See the full list here:
http://www.interop.com/lasvegas/2012/exhibitor-list/
If you happen to read this before Thursday, May 10th 2012, let me know if there are any questions you would like me to ask a vendor or vendors. I'm more than willing to do that. Just drop me a comment at the end of this post and I will do my best to get it answered while I am here.