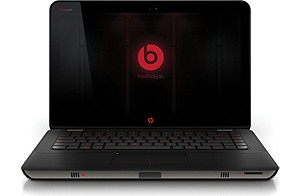 I have been fortunate to receive a free laptop from HP due to my involvement with them at the HP Discover conference that took place out in Las Vegas in early June of 2011. This laptop is mine to give away to a reader of my blog.
You can see the actual laptop specs here: http://www.shopping.hp.com/webapp/product/XZ211UA%2523ABA
I figured I would make this interesting. All you have to do to be eligible to win this is the following:
Give me your perception of HP networking(pros and cons) and try to think of any ways that they can improve their message when it comes to connecting with the technical side of the community. There's enough communication directed at IT managers and CxO types. I am interested in what the technical side of the house thinks. Best answer gets the laptop. Oh, and I don't care whether your answer involves wireless, security, traditional data center route/switch, etc. As long as it can be deemed "networking" specific, I will take it.

Send your responses to contest@insearchoftech.com. I'll post your answer with proper attribution as well as snippets of any other responses that are interesting. I can also guarantee you that HP will be interested in what you have to say in regards to their networking solutions.
One other small request. Let me know how you would use the laptop to improve your business or personal life, or the best feature about it, or what makes it attractive to an enterprise or small business. That should be relatively simple for most people to answer.
This is a win/win for anyone who participates. First, you might get a brand new laptop that costs you nothing. Second, you get a chance to tell a vendor how to do a better job and level some constructive criticism their way. That's it. No strings attached whatsoever. This is open to anyone WORLDWIDE. The only ones not eligible would be HP employees and any of my fellow bloggers who were with me at HP Discover. Other than that, I don't care who you work for or where you live as long as you can give a decent response regarding HP Networking.

While some might see this as a blatant commercial for HP, it isn't. I can assure you I have not sold out my independence, and the winner is obligated to do absolutely nothing other than enjoy the free laptop. All you have to do is give your opinion. The odds are a lot better than most of the "Free iPad drawing" scams that are out there.
Contest ends on July 1st,2011 at 11:59PM CST(UTC/GMT -5). Winner will be chosen and notified as soon as possible. I don't like waiting for things either!