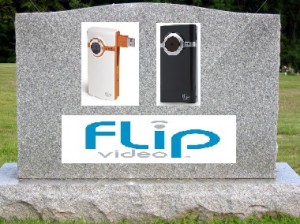 Cisco has killed the Flip. Twitter and blogs are replicating this announcement out to the far corners of the Earth. I am cheering as are plenty of other network centric people.
My friend Tom(@networkingnerd) spun up a quick post on his blog about the Flip. He doesn't come out and say that he thought Cisco and Flip were a great partnership. He also doesn't feel the need to pile on Cisco and point and laugh like so many of us are doing now. Tom says:
"I'm going to take a slightly different line of reasoning here.  I don't think Cisco failed with the Flip.  I don't consider something to be a failure so long as you learned something from it.  Apollo 13 wasn't a failed moon landing.  It was a successful astronaut rescue.  We learned how to think on the fly when the pressure was on and bring people home safely when it counted.  In a slightly different way, I think Cisco learned a lot about what went wrong with the Flip and dissecting it over the coming months should yield a lot of information about how to avoid things like this in the future."
While I agree in principle, I think the bigger problem with Cisco and Flip was focus. It's not that Flip didn't have revenue potential. I happen to think it is a cool product! If you read Tom's post that I just referenced, he includes some good possibilities for Flip enhancements to make it even easier to share video with others. I think the problem was more of perception from end users of Cisco. By end users, I am not referring to the Linksys, Umi, Flip crowd. I am referring to enterprise networks and service provider customers.
The signal that myself and others were getting from Cisco was that they wanted to be all things to all people. They wanted to meet the needs of every sector possible. In my opinion, it had everything to do with growing the company year after year, and quarter after quarter. It was because of that perception, that I think people started looking more heavily at alternatives to Cisco.
Of course, Cisco can give you all sorts of numbers behind how many engineers support this line and that line. They'll tell you that they are able to focus in all the different sectors they are in. New products are being released for each of these lines. The impression Cisco wants to convey is that they can juggle all of these different things and still produce quality products in a timely manner.
Let's assume those things are true. Let's assume that Cisco CAN manage all the various business units and that they are all working in concert to achieve the goals John Chambers has set for them. All of that means absolutely nothing if the perception from the average end user out there is different. Perception is reality for so many of us.
As luck would have it, the recent memo from John Chambers to the employees of Cisco has strengthened the viewpoint of many of us that Cisco needs to get back on track with the things they are good at.
For what it's worth, I still believe the following:
1. Cisco produces some great products.
2. Cisco has a large number of very smart and talented people working for them.
3. Cisco can still innovate even outside of acquisitions.
4. Cisco has a VERY effective marketing machine that can sell almost anything.
5. Cisco wraps their products around a vast ecosystem that makes it hard to do without.
6. Cisco WILL continue to dabble in the consumer market.
Closing Thoughts
I'll sum it all up regarding the Flip with this: "Just because you can sell something, it doesn't mean you should."
I hope that we'll see some additional changes from Cisco in the coming year. Ditching the Flip is just the start. There's too much competition out there right now for Cisco to ignore. Other companies are producing products that are technically superior and cost a lot less in several of the sectors that Cisco holds a lead in. As an end user, I want to see Cisco continue to produce good products. Ultimately, I have a responsibility to my employer to ensure the products we use are the best fit for the company. I can't wait around hoping for change from vendors. I have to deal with the problems I have today and choose vendors that are focused on solving those problems. I'm not saying that I want to get rid of everything Cisco. I'm just saying that many of us are watching a lot closer than we have in the past.
Am I wrong? There's a good chance I might be. If you disagree, let me know in the comments below.